FIFA had given Qatar the location for the 2022 Men's Football World Cup. Qatar has been busy preparing for the 2022 FIFA Men's Football World Cup. It has renovated its existing football stadiums and built new ones. Since their release, the modern stadium designs have been admired by the entire world. Qatar will be hosting 32 teams and conducting 65 matches at 12 stadiums. Eight of the 12 stadiums are operational now, and more will be added in due course. Let's take you to these stadiums and show you how beautifully they were made.
List of Football Stadiums in Qatar 2022
The inauguration of FIFA World Cup Qatar 2022 is nearing. This event has been one of the most anticipated in this year's global calendar. From the 21st November to the 18th December 2022, the quadrennial international men's football championship will be held in Qatar. This is the first time it has been held in an Arab country. Since FIFA announced Qatar would host the 2022 World Cup in 2010, preparations for 8 stadiums have been underway, particularly since it will be held in a country that has severe climate conditions.
Stadiums in Lusail City of Qatar
Capacity: 80,000 seats | Opening: 2021 | Status: under construction
aaa
Stadiums in Al Khor City of Qatar
Al Bayt Stadium | Capacity: 60,000 seats | Opening: 2021
Stadiums in Al Wakrah City of Qatar
Al Janoub Stadium | Capacity: 40,000 seats | Opening: 2019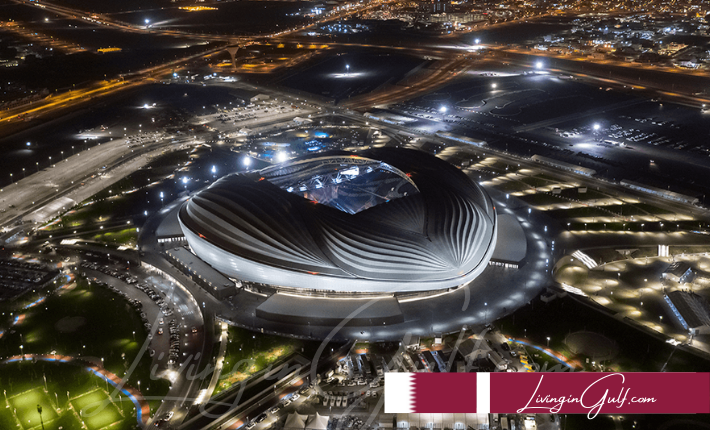 Stadiums in Al Rayyan City of Qatar
Ahmad Bin Ali Stadium | Capacity: 40,000 seats | Opening: 2020



Stadiums in Doha City of Qatar
Khalifa International Stadium | Capacity: 40,000 seats | Opening: 1976
Education City Stadium | Capacity: 40,000 seats | Opening: 2020
Al Thumama Stadium | Capacity: 40,000 seats | Opening: 2021
Stadiums in Ras Abu Aboud City of Qatar
Ras Abu Aboud Stadium | Capacity: 40,000 seats | Opening: 2021 | Status: under construction